Skip to content
Conserving antiquities and modern sculpture in Christchurch, New Zealand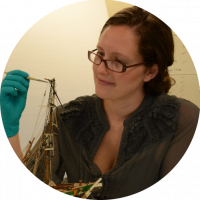 In November 2007 I set up my own conservation practice based in Christchurch, New Zealand. Offering treatment, advice and documentation of objects to Museums, Art Galleries, the City Council, private collectors and businesses.
Project Conservator, Canterbury Museum
Project conservator working on preparing Canterbury Museum's special 150 objects for photography for their upcoming book.
Object Conservator, Antarctica
I spent the "Winter Over" period conserving objects from Shackleton's Hut at Cape Royds, such as tins of Marrow Fat and Boiled Fowl. 
Sculpture Conservator, Tate Gallery, London
I was responsible for checking New Acquisitions, condition surveying objects, installing exhibitions and performing conservation treatments of sculptures. I interviewed artists on their techniques, materials and attitudes to the conservation and preservation of their works.
Objects Conservation Intern, Bristol City Museum and Art Gallery, UK
MA, Conservation of Historic Objects, Durham University, UK
BSc, Geology, Durham University, UK
Preventative Conservation